Trainers, it has finally happened… PokéStop Nominations and Niantic Wayfarer are BOTH live for Level 40 Trainers globally!
For over a year, the PokéStop Nomination System existed as a beta test in certain countries. Wayfarer has also been in beta testing for about the past month.
At last, Niantic has found that NOW is the time for both features to go live globally! Let's take a look at these two new features, which will certainly have a significant impact on your future Pokémon GO experience! For the original announcement, visit the Pokémon GO live blog.
PokéStop Nomination System
PokéStops are your most valuable resource in Pokémon GO, as it will provide you with lots of different and very useful items that are key in order to keep playing the game.
Since September 2018, a beta release went live in Brazil and South-Korea, and, since then, a plethora of countries have been granted access to the PokéStop Nomination System. Now the feature is live globally for Level 40 players, how about we take a look at how you can submit a PokéStop Nomination, right? 
Whether you're already Level 40 or not, with this guide, you'll be prepared to submit your very own PokéStops!
PokéStop Nomination System

Before Nomination

Before you're going to submit a PokéStop Nomination, make sure to check Niantics criteria on what makes a good PokéStop
Start Nomination
Go to a location that you think would make a good PokéStop
Go to your Pokémon GO Settings and tap the "New PokéStop" button
Set Location
On the map, an orange PokéStop pin show which represents the location of your nomination
Tap or drag the PokéStop pin to the most accurate location representing the object of your nomination
Existing PokéStops will show with a blue PokéStop marker
Nominations to close to an existing PokéStop will be considered ineligible
Photo Location
Take a clear photo of the object/location you want to submit
You can not submit photos you didn't take yourself
Avoid photos that contain people, body parts, animals, or copyrighted objects/materials
Supporting Photo
Take an additional photo of the surrounding area around the location you're submitting
This photo is for reviewers only and will not appear in-game
Title and Description
Add a detailed and unique title to your nomination
Try to use the official name of the object or location
Add a description to your nomination such as the history of the object or location
Do NOT use HTML, URLs, or references to game-specific terms (Gym, Raid, …)
Preview and Submit
Check your nomination one last time before finalizing and submitting
Once checked, tap the "Confirm" button

Show Importance

Give the reviewers some context about why your nomination is a valid candidate for a PokéStop
These sections are for reviewers only and will not appear in-game
When your nomination is complete, tap the "Submit" button
Review

After completion, you will receive a confirmation email
Your submission will be reviewed by eligible players in Niantic Wayfarer
You will receive an email which states whether your nomination was accepted or not
Note that it can take several weeks/months
before your nomination gets reviewed
Niantic Wayfarer - OPR Reborn
Niantic Wayfarer is the recently announced feature built upon the old OPR (Operation Portal Recon) system. With it, players of Niantic's AR-games can review so-called 'Wayspots.' These are real-life places that function as PokéStops/Gyms in Pokémon GO, Portals in Ingress, and Inns/Greenhouses/Fortresses in Wizards Unite. 
Curious how it works? None other than PeloPoGO, one of the most talented and famous AR-photographers today, talked to us about the feature and how it works.
Based in Mexico, he had access to the beta test and has been reviewing A LOT of Wayspots ever since. Let's take a closer look at Niantic Wayfarer!
ACCESSING NIANTIC WAYFARER
The following requirements to access Wayfarer can be found on the Niantic Helpshift website.
Features related to Niantic Wayfarer are accessible for certain experienced players of Niantic games. Whether you can submit a suggested Wayspot edit, submit a Wayspot nomination, or review nominations and edits is determined by the level of your account in Pokémon GO and/or Ingress Prime. The current access requirements for these features are listed below.
Please note that these access requirements are subject to change, so keep an eye on our official channels for updates.
SUBMITTING WAYSPOT EDITS
Players can submit suggested edits to existing Wayspots for review within Wayfarer:
Level 8 in Ingress Prime – Level 8 grants access to edit text and images; location editing is unlocked at level 12. Learn how to submit a portal edit here.
SUBMITTING WAYSPOT NOMINATIONS
Players can nominate new Wayspots for review and manage their nominations on the Wayfarer website:
Level 10 in Ingress Prime – Tap the Nomination button in Ingress Prime's Main Menu.

Level 40 in Pokémon GO* – Learn how to submit a Pokéstop nomination here.
REVIEWING WAYSPOT NOMINATIONS AND EDITS
Players can visit the Wayfarer website to review Wayspot nominations and edits. In addition to level requirements, players must also pass a quiz to show that they understand Niantic's Wayspot acceptance criteria:
Level 12 in Ingress Prime
*At present, players must have their game account linked to a Facebook or Google account in order to access the Wayfarer website.
WHAT MAKES A GOOD WAYSPOT?
High-quality nominations are those that help users discover and enjoy their community, such as:
A location with a cool story, a place in history, or educational value

Interesting story behind the location/object

Signboards with educational information

Historical significance (apart from just being old)

A cool piece of art or unique architecture

Statues, paintings, mosaics, light installations, etc.

Venues that showcase fine art (e.g., performance art theaters and museums)

Buildings designed by renowned architects/structures famous specifically for their architecture

A hidden gem or hyper-local spot

A popular local spot that you would take a friend visiting your community for the first time

A popular spot where locals gather, but may be lesser-known outside the community

Tourist spots that showcase local flavor and culture and that make your city/neighborhood unique

More off-the-beaten-path tourist attractions (i.e., if you weren't a local, you wouldn't necessarily know to go here)

Adventurous tourist attractions – think lookout towers, observatories, signs or markers atop mountain peaks, etc.
In addition to using the above acceptance criteria, we often add nominations that are a special nod to industries and networks that connect people around the world. These include:
Public parks

Public parks are great, high-quality places for Wayspots: they are common all around the world and encourage players to walk, exercise and enjoy public spaces

Public libraries

A nod to education and discovery, a cornerstone of Niantic

Includes little free libraries, provided they are not on private residential property; does not include mobile libraries

Public places of worship

Transit stations

A nod to the transportation industry, which also connects and unites people around the world

Accept transportation hubs (like Grand Central Station), but not every single small transit stop (like a subway station or a bus stop)
LOW-QUALITY NOMINATIONS
If you come across any of the following, please reject it as an ineligible nomination by answering the "Should this be a Wayspot?" question with a 1-star rating:
Nominations whose real-world location appears to be on the grounds of 

primary, secondary, or high schools, or daycare or childcare centers

Nominations whose real-world location appears to be on 

private residential property

 (including farms)
Nominations whose real-world location appears to obstruct the driveway of emergency services or may interfere with the operations of 

fire stations, police stations, hospitals, military bases, industrial sites, power plants, and air traffic control towers

Nominations that do not appear to be

permanent

, including 

seasonal displays

 that are only put up during certain times of the year
Nominations where the photo is of 

natural features

 (Includes pictures of landscapes as well as submissions where the subject is a lake, river, stream, mountain, volcano, waterfall, etc.; photos that include man-made points of interest – plaques, signs, etc. – near natural features are acceptable).
Please give a 1 star if the nomination has the following issues:
Nomination where the photo or information appears to focus on a 

person/group of people, body parts, live animals,

 instead of an object

The photo appears to be from a third-party source (e.g., shows a watermark) or is low quality (e.g., pitch-black/blurry photos or photos taken from a car)
Please be sure to closely review nominations whose real-world location appears to be within 40 meters of private, single-family residential property, and nominations whose real-world location appears to be in a neighborhood park. To be clear, nominations should be rejected if their real-world location appears to be on private, single-family residential property or might encourage people to go onto private property (e.g., because the real-world location is at the end of a private driveway).
RATINGS SCALE
You will be asked various questions about a nomination and will answer by rating on a scale of one to five stars. In general, use the following guidelines when deciding how to vote:
If you strongly agree, choose 5 stars

If you are unsure or have no opinion, choose 3 stars

If the answer is definitely no, choose 1 star
When you answer "Should this be a Wayspot?" with a 1-star rating, you will not be required to answer the other questions and can move to the next nomination.

CHECKING LOCATION
The real-world location of the Wayspot is extremely important. We want users to be able to visually see and experience the nomination when they visit the real-world location. Please make sure to examine the real-world location of the nomination using a variety of sources, including maps and Street Views. You will be asked to rate the real-world location by answering the following questions:
Is the location marker in the accurate spot?

Can the nomination be safely accessed if the marker was in the right real-world location?
TO RATE THE ACCURACY OF THE LOCATION
Rate 5 stars if you can find the nomination in the map and the marker is on or within a few feet of the real-world location of the object

Rate 3 stars if the nomination is likely to exist in the real-world location if obscured by trees, or if you are unsure of the real-world location

Rate 1 star if the nomination cannot be found on the map
Note: At times, you may not be able to view the nomination in maps or Street View if the real-world location of the nomination is inside a park or under a tree. For these cases, use your best judgment to decide whether the nomination could exist at the real-world location. You can use the submission photo and look for clues in the background to help you decide.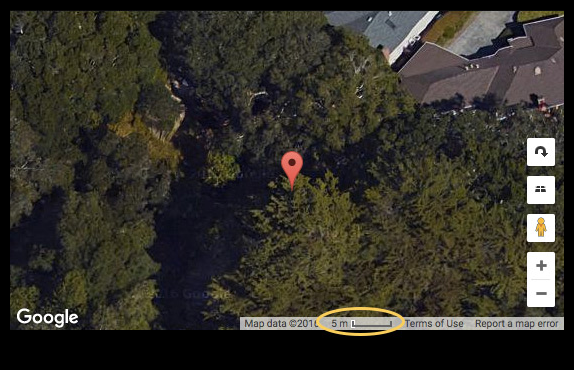 TO RATE THE ACCESSIBILITY OF THE REAL-WORLD LOCATION
If the real-world location of the nomination cannot be confirmed to have safe pedestrian access (e.g., on a roundabout or on the side of the road with no sidewalk access), rate 1 star for the "Can it be safely accessed?" question.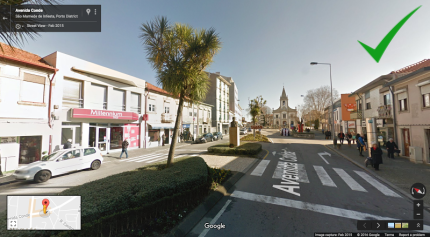 Example 1: There is a crosswalk leading up to the object and an area next to the object for players to stand. This nomination gets 5 stars for the question "Can it be safely accessed?"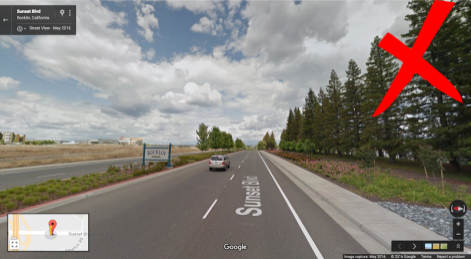 Example 2: There is no pedestrian access to the real-world location of the nomination. Mark this a 1 star for the question "Can it be safely accessed?"
CHECK FOR DUPLICATES
At times, you might come across a nomination that is a duplicate of a live Wayspot. In these cases, follow these steps to look for and mark as a duplicate.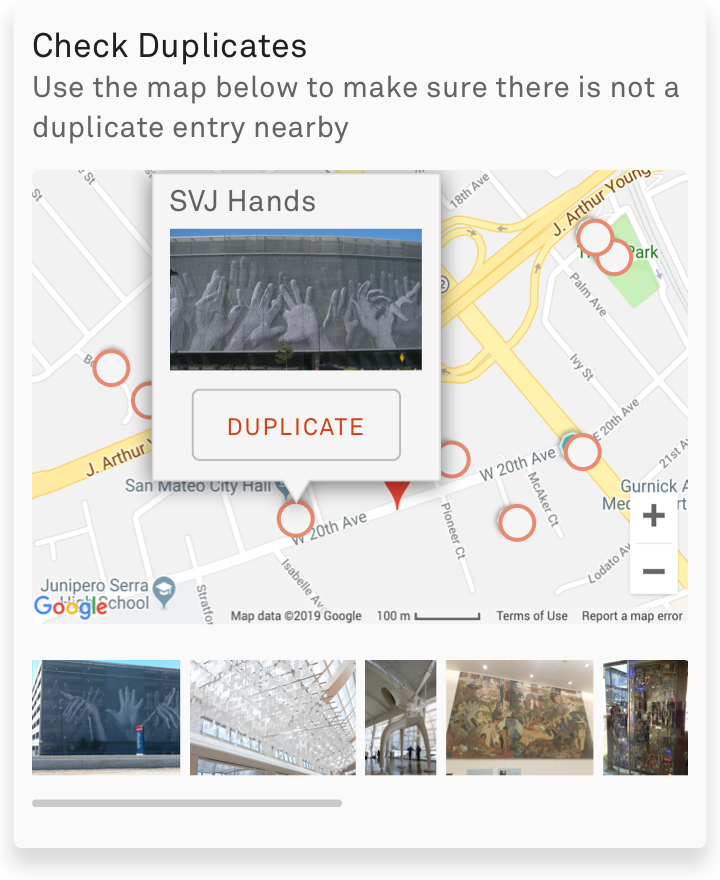 The Check Duplicates section will display a list of live Wayspots in the real-world area around the nomination. Scan through the photos and if you find a live Wayspot for the nomination you are reviewing, follow these steps:
Click the Wayspot photo

You will see a pop-up in the map with the Wayspot details. Confirm that it is a duplicate of the nomination you are analyzing

Click the "Mark as Duplicate" button
WHAT'S IN IT FOR YOU?
Phew! That's a lot of information to take in, and it sure looks complicated and much work at first sight! Well, brace yourselves, it isn't. But still, it takes some effort and time, and you give a lot back to the community, so what can you expect as a reward? This is where the 'Prestige System' comes in. 
On your Niantic Wayfarer profile screen, you'll see a circle formed progress bar, accompanied by a list of how many:
Total Nominations Reviewed

Wayspots Accepted

Nominations Rejected

Upgrades Available

Upgrades Redeemed
Depending on how many Wayspots you review, and the quality of your reviews, you'll make progress on your profile. Every time you 'level up,' you receive an Upgrade. These upgrades can be used to push your Nominations to the top of the list for other Wayfarer reviewers. For now, we do not know the limitation on receiving an Upgrade. 
I want to give a huge shoutout to PeloPoGO, who helped me out with this article by providing a personal, in-depth explanation of Wayfarer when it was just live in Mexico. You can get his explanation too! He talked about it in the following podcasts:
Wowzah, that was a huge chunk of info! Are you excited about PokéStop Nominations and Niantic Wayfarer being live (we all know you are, of course)? Let us know on Twitter or in the comments below! We hope this guide will help you in your future adventures. Happy exploring, and as always, stay safe Trainers.